br>
Movement is at the heart of human progress. As civilizations advanced, our modes of transportation have also improved tremendously. We used to walk to cover entire continents over a few months. Now, we travel to the other side of the world in a few hours. This shows that humankind has come a long way indeed. Since movement and travel are pivotal to our daily life, there is always a high demand for workers in this industry. In this article, we shall look at the responsibilities and monetary benefits of some of the best-paying jobs in transportation.
Methodology: We have used the averages of the salaries mentioned on the website of the Bureau of Labor Statistics, salary.com. However, in some cases, the data from indeed.com has been used.
Table of Contents:
Best Paying Jobs In Transportation (From $233K to $70K)
In this section, we shall look at some career paths that come under the best-paying jobs in transportation.
1) Owner Operator Driver
An owner-operator is an independent contractor that drives vehicles and delivers items to consumers. The majority of owner-operators operate their own small businesses and semi-trailer vehicles.
They can work in various fields, such as logistics, the healthcare industry, and restaurant franchises. They typically begin their careers as truck drivers, gather experience, and launch their own firms.
The other responsibilities of an owner-operator include transporting cargo over long distances and engaging with dispatchers. Moreover, they are also responsible for loading and unloading materials.
Plus, they also plan the most efficient routes. Some business tasks, such as accounting, also fall under their purview.
An owner-operator driver makes about $233,000 on average every year.
2) Logistic Professionals
From intern, analyst up to Director or vice president, the range of a logistic professional can go from 61,340/year to $231,343.
The Logistics Vice President is responsible for leading the logistics team and making all major decisions regarding company logistics. They are in charge of developing strategies to improve the efficiency of the company's supply chain and ensuring that all orders are fulfilled in a timely and accurate manner.
The Logistics Vice President is also responsible for overseeing the budget for the logistics department and ensuring that all operations are run smoothly and efficiently.
3) Pilot
A pilot is a person who works in the aviation industry. Also, he is qualified to fly an airplane and transfer people or cargo safely from one place to another. There are various opportunities in the public and private sectors, as well as in educational settings as a trainer in the broad domain of aviation.
Pilots may be responsible for carrying people, military personnel, private goods, commercial cargo, or other forms of freight. This depends on what area of aviation they operate in.
Some other responsibilities of a pilot include:
Conducting pre and post-flight inspections of the aircraft.
Choosing effective and safe flying routes.
Identifying potential threats.
Maintaining accurate records for compliance-related reasons.
Communicating with the necessary persons and agencies.
Ensuring the comfort and safety of the crew, passengers, and aircraft.
The median salary of an airline pilot is $139,000 a year. (Other Sources)
4) Air Traffic Control
An air traffic controller issues permissions for aircraft to safely take off or land from control towers, approach control facilities, or route centers
They coordinate air traffic patterns to ensure that airplanes are kept at a safe distance from one another. They can alter flight courses as needed since they are in charge of maintaining the safety of the aircraft, flight crew, and airline passengers.
The median salary of an air traffic controller is close to $130,000.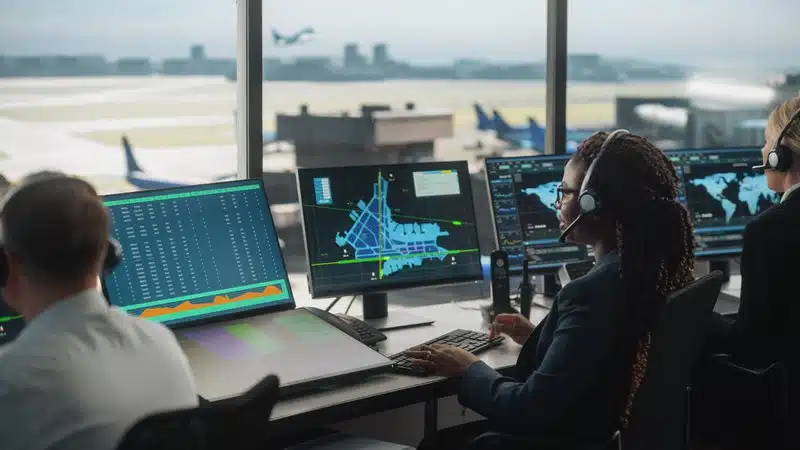 5) Highway Engineers
A highwaY engineer supervises a project's budgeting, estimating, planning, and execution. Because of this, a job in highway engineering is both varied and exciting, requiring daily tasks, including conducting site surveys, creating design requirements, organizing delivery packages, and much more.
Also, the job requires one to alter existing roads if necessary. Moreover, engineers must examine present traffic patterns to estimate project expenses.
The median salary of highway engineers is slightly more than $100,000.
6) Railroad Engineer
A railroad engineer is responsible for the operation of a train and its crew. They must ensure that the train runs on time and safely. Railroad engineers typically work for a railway company or as part of a team of engineers.
As a railroad engineer, you will be responsible for operating a train and its crew. You must ensure that the train runs on time and safely. Railroad engineers typically work for a railway company or as part of a team of engineers.
As a railroad engineer, your job is to operate a train and its crew. You must make sure that the train arrives at its destination on time and without any accidents. To do this, you will need to have strong leadership skills and knowledge of the rail system.
The average salary of a Railroad Engineer is $94,310 in the US.
7) Marine Engineer
A marine engineer is a person who creates, constructs, tests and fixes ships, boats, underwater vehicles, offshore platforms, and drilling apparatus. They frequently collaborate closely with naval architects to make everything from little yachts and fishing boats to submarines and aircraft carriers.
Marine engineers are also needed in the energy sector for crucial tasks.
People who have studied marine engineering frequently carry out tasks such as supervising and maintaining ships, bunkering fuel oil, planning, and record keeping. Also, they repair the ship as needed.
The median pay for a marine engineer is more than $93,000.
8) Warehouse Manager
The management of activities in storage facilities rests with warehouse managers. They are in charge of organizing and retrieving the activities related to the storage of various objects safely and securely. They frequently oversee a team, hiring new employees, giving them tasks, and evaluating their progress.
A warehouse manager is responsible for accepting shipments of supplies, commodities, records, or other items. He monitors compliance with health and safety guidelines. Also, he assigns tasks to a staff team.
Additionally, he has to maintain details of the inventory, sales, fast-moving products, and security measures. Also, he needs to ensure a risk-free environment. Lastly, he responds to requests for the retrieval of goods.
The median salary of a warehouse manager is more than $91,000 a year.
9) Locomotive Engineer
Train engineers operate locomotives that can transport passengers or cargo. They keep in communication with other train crew members and make sure they comply with safety regulations. The average base salary of $74,502.
10) Flight Attendant
On commercial aircraft, flight attendants are tasked with caring for passengers. The work goes well beyond providing for passengers. Additionally, flight attendants assist with preflight briefings with pilots, check emergency equipment before takeoff, uphold safety protocols on board, and look after passengers with special requirements.
Moreover, they can be asked to deliver and organize emergency medical treatment, soothe anxious passengers, and give instructions during an airplane evacuation.
The employment includes unpredictable hours, including nights and weekends, and it can necessitate spending the night in a far-off city.
The median salary of a flight attendant is more than $70,000. (Other Sources)
Best Paying Jobs in Transportation (Between $70K and $40K)
We have now reached the last lap of our best-paying jobs evaluation. In this section, we will look at some of the best-paying jobs in transportation between
11) Train Conductor
A train or railway conductor is a person who works onboard trains, supervising the everyday duties of the crew. A freight train conductor also performs similar duties keeping an eye on the loading and unloading of cargo at each stop.
This position frequently entails long hours and either national or regional routes.
This job role involves ensuring the safety of every passenger. A train conductor is also responsible for checking the tickets. Further, he informs passengers of the upcoming halt and checks the track for any issues. Also, he coordinates with other staff regarding the timetable.
The median salary for train conductors is greater than $64,000.
12) Water Transportation Workers
Workers in the water transportation industry manage and operate non-military ships. In addition to running ships, the role entails preserving passenger and cargo safety.
They could be employed by massive deep-sea container ships that transport manufactured products, bulk carriers that transport iron ore, coal, and other heavy items, tankers that transport gasoline and other liquids, or other shipping companies.
Captains, mates, pilots, sailors, ship engineers, marine boilers, and motorboat drivers are among the several classes of water transportation workers.
They have a median salary of greater than $62,000.
13) Truck Driver
A truck driver is a person who makes a living by operating a vehicle and moving materials and products over land. They often travel to and from production facilities, distribution centers, and stores while working any time of day or night. They offer industrialized societies a vital service.
The median salary of a truck driver is between $48,000 -$50,000. (Other Sources)
14) Dispatcher
Service sectors, such as emergency, courier, and taxi, employ dispatchers to fulfill requests — a dispatcher first receives them, often by phone, and then speaks with mobile units. In a communications center, they often collaborate with additional dispatchers.
A dispatcher can progress to a senior job with education and experience. A dispatcher has varied responsibilities. These include answering queries in a collected, personable, and professional way.
Also, since this is a highly time-sensitive job, he must get critical and precise information as soon as possible. The ability to identify and prioritize emergency calls is extremely crucial here.
Also, he must be able to pass on the relevant information clearly and concisely. Further, he must have records of all calls.
A dispatcher's median salary is around $47,000 a year. (Other Sources)
15) Crane Operator
Crane operators work on tower or bridge cranes. Construction companies often need crane operators. They move large loads of building materials to inaccessible places by collaborating with other workers to ensure that all work is carried out safely.
Also, they ensure that the entire process is carried out in compliance with safety standards and the construction plans or loading schedules. They ensure that loads are correctly balanced and within the specified weight capacity for the operational conditions.
The median salary of crane operators is between $38,000 -$45,000 a year. (Other Sources)
16) Transportation Coordinator
Establishing schedule parameters entails looking into schedule requests, cargo, distances, and other crucial data when coordinating transportation. Using the software, transportation planners may create new timetables or make changes to current ones.
By scheduling special events, busiest traffic times, and construction, they may highlight how effective the routes are for saving time and money. As part of their job, a coordinator may assign routes, plan shifts for other employees, create operations reports, and write user manuals.
The average salary of a transportation coordinator is greater than $43,000.
17) Bus Driver
A bus driver drives passengers around the country to work, school, and many destinations. Some bus drivers operate on set routes, while others take tourists on sightseeing trips.
Also, a bus driver has other responsibilities, such as ensuring all the passengers are safely transported. Additionally, he ensures to follow a planned route and timetable. A bus driver should also adhere to traffic rules and regulations. He must provide customer service when required.
The average and median salary of a bus driver are greater than $42,000 a year. (Other sources)
18) Light Truck Drivers
Tractor trailers are big vehicles operated by light truck drivers. They transport goods from manufacturers to merchants, warehouses, and other sites.
Light truck drivers commonly pick up freight at intermodal rail yards or seaside ports. Some light truck drivers travel extensively and spend a lot of time away from home when working over the road (OTR).
The median salary of a light truck driver is about $42,000 a year.
Jobs in Transportation Salaries Under $40K
We have covered quite a few diverse roles in the transportation sector so far. But, we in this section, we will take a look at some of the not very best-paying jobs in transportation. The ones below $40K.
Chauffeur
A chauffeur is someone who offers private driving services, typically for both professional and social occasions. They could do contract work for a company, a family, or an individual.
Additionally, drivers can work on ad hoc or temporary contracts for various clients. Unless they are hired on a retainer by a client who may have a flexible schedule, chauffeurs are typically reserved for specific journeys.
His main tasks are to perform periodic maintenance on their car to ensure it is safe and roadworthy. He is also responsible for changing tires, checking oil levels, etc. Also, a chauffeur maps out the most efficient routes and takes care of the luggage when traveling.
The median salary of a chauffeur is between $30,000 – $35,000. (Other Sources)
Cab Drivers
Cab drivers take customers from their starting point to their final destination in a taxi in return for payment. For peak or off-peak operating hours, separate fixed rates are used to determine fares.
Someone who is good with people is the ideal candidate for this position since it demands an outgoing attitude. Taxi drivers might be employed on a temporary basis or on a long-term contract. While some cabbies own their vehicles, others rent them.
A cab driver has to follow traffic rules. Also, he must know the shortest and most efficient routes to each destination. Plus, he has to assist passengers with their luggage and help specially-abled passengers.
The median salary of a cab driver is more than $37,000 per year. (Other Sources)
Van Driver
A van driver can transport packages and parcels, newspapers, bakery and dairy goods, and other goods while operating vehicles, vans, and light trucks. By planning routes, delivering items, or selling things along the way by taking and processing payments, they may load and unload the cargo and offer customer service.
In addition to scanning and sorting the freight or cargo, they could be in charge of building, installing, or putting up the items they supply.
A van driver's work includes scheduling their delivery trips and inspecting their vehicle before and after the journey, just like other transportation occupations.
A van driver makes close to $35,000 on average.
In Conclusion
The transportation industry offers many high-paying jobs with great responsibilities. With the ever-growing need for faster and more efficient ways to transport people and goods, the possibilities in this field are endless.
If you're looking for a stable and exciting career, there are many job opportunities in the transportation sector. A career in transportation offers several opportunities for development and expansion.
You will be exposed to a variety of fields through your work. Most transportation and logistics companies provide internal training programs; many will also pay for continuing education outside. In selecting one of the best-paying jobs in transportation, you will gain exposure to multiple sectors.
.